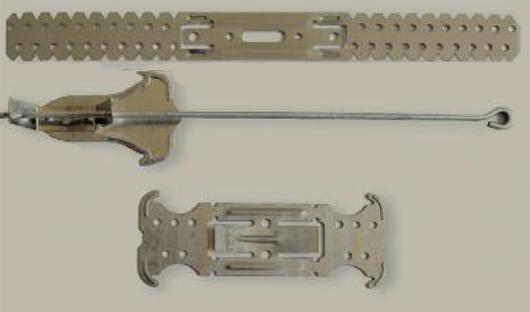 Drywall construction is considered one of the most common technique for construction applications. It offers a quick and economical solution that provides total architectural freedom, making possible new innovative ways of designing indoor decoration elements.

It is a well-established technique for the construction industry, with limitless applications, that has made obsolete the use of heavy materials of the past. Thus, it gives to decoration designers the comfort and freedom to design complex ceiling or space elements, with improved aesthetics and better practicality, for internal or external spaces.

Our company, viewing modern demands in this sector as a challenge, moved forward to produce all parts for a complete Drywall system. Apart from the metal profiles (main ceiling channel, perimeter channel, tracks, studs and perforated angle) that we have already been producing for years, we installed machine presses and wire straightener for production of all metal parts of a drywall system, like connectors, mounts and wire roads.
In this way we managed to successfully follow the evolution of construction demands. Our quality products are certified and most of all reliable for every application. Raw materials used are produced by European steelworks industries. We operate our own cleating machinery for raw material processing, which gives us the competitive advantage.
Below, we introduce a complete series of metal parts, necessary for implementing modern constructions with a drywall mounting system. These parts can cover every possible need in such a system.
The critical and demanding aspect in implementing the metal frame of a suspended ceiling or a vertical structure is the proposed assembly of the profiles. Especially for ceilings, where a collapse due to custom suspensions, connectors and other parts for drywall mounting can cause major accidents.
Also, it is of great importance the control of suspensions and connectors in situations where strong forces are created due to air waves. Right design and use of high accuracy metal parts, guarantee precise dimensions and unmatched result quality.
Our metal parts are certified for their strength and durability to withstand calculated forces, even when dynamic stresses become present, ex. earthquakes vibrations or air streams.
Key features:
Overlapping requirements of European standards for fire resistance.
Absolute compatibility with the profiles dimensions.
Made from special steel for extra durability.
Unified pieces from a continuous steel metal sheet.
High quality galvanizing, equivalent to Ζ 140 profile, standard ΕΝ 10326-7.

Ceiling mounting
Three main types with some extra variations.
Quick mounting system with main ceiling channel, mounting rod and butterfly-shaped mounting rod expansion.
Rigid mounting system.
Direct mounting system with Π type connectors.
Parts characteristics and Packages



Rod for mounting loads.
Thickness 4mm, galvanized, dimensions 250mm, 375mm, 500mm, 750mm, 1000mm, 1250mm, 1500mm, 2000mm.
Pack 100 pcs.

Connector type Π
For CD 60/27, material DX51D, Z140 galvanized, thickness 0,75mm.

Box 100 pcs.
Connector type Μ
For CD 60/27, material DX51D, Z140 galvanized, thickness 0,60mm.

Box 100 pcs.
Mounting bracket Π
Length 12 cm, material DX51D, Z140 galvanized, thickness 0,75mm.

Box 100 pcs.
Quick mounting bracket without safety lock
For CD 60/27, material DX51D, Z140 galvanized, thickness 0,75mm.

Box 100 pcs.
Butterfly-shaped mounting rod expansion
Metal of thickness 0,60mm

Box 100 pcs.