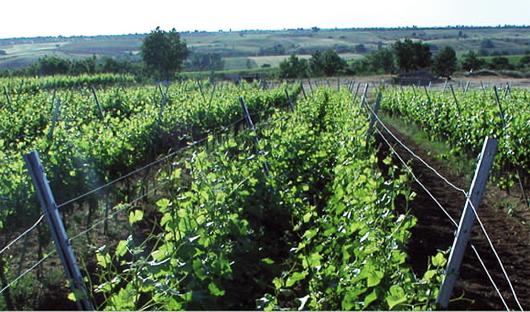 Products
Pre-Galvanized vine metal post with outer notches
Vine post is a part of a modern system for underpinning a vineyard, with multiple benefits for the farmer. It facilitates plants growth, improves overall vineyard management and lowers running costs to the farmer´s benefit.

Vine metal post for new plants
Early support of new plants is very important for their later growth. Strong air currents consist a great danger for young and weak plants. Our new product, vine metal post for new plants, is made from galvanized steel sheet of 1 mm thickness.


Metal strip for mounting metal wires
These strips are used for mounting metal wires between notches, preventing unintended dismounting. They are produced from galvanized metal sheet DX510 - Z200 of thickness 2.00mm and 2,50mm.
Standard length:
10cm * 20cm * 30cm * 40cm * 50cm * 60cm * 70cm * 80cm
Standard width:
20mm, 25mm και 30mm
Accessories for Vineyard ApplicationsEdge Post
Edge post is a galvanized pipe with metal or plastic cap. It is produced in variable length along with the necessary holes (Φ8) for mounting wires and anchors.
Intersections
: Φ48, Φ60 and Φ76
Thickness
: 1,50mm, 2,00mm, 2,50mm και 3,00mm.
Lenghts
: 1,50m, 2,00m, 2.50m και 3,00m.
Antihail installations
Metal posts and accompanying accessories can be used in a complete antihail protection system.
Linear cultivations
Metal posts and accompanying accessories can also be used as a part of a linear cultivation for plants like:
Goji berries
Pomegranate trees

Tomatoes
Olive trees
Linear cultivation accessories
We produce all necessary accessories for a complete linear cultivation system, like:
Tensioners L.Τ.
Stretchers H.Τ
Anchors
Wire ropes

Gripples
Wires for nest mounting

Rings
Anti-immerse metal plates

U Type screws

Screws
For more information about linear cultivation and antihail systems press
here
.