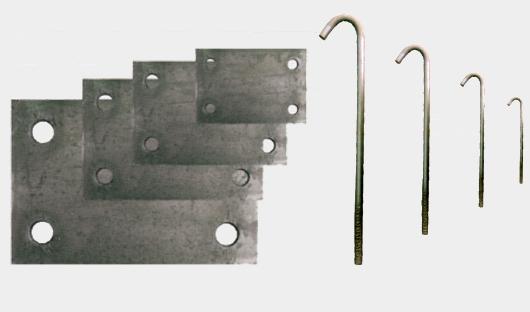 Our intention is to provide our customers with all the necessary parts for constructional purposes. In order to satisfy these demands, we produce specialized metal parts for construction of buildings, factories, shelters etc, stocked and ready to be delivered.
We produce high quality steel anchors and plates, metal parts that comply with well-established standards.
They can be custom-made at any dimension, thickness or other specific parameter needed by your constructional demands. Cutting is done by using pantograph and laser-cutting machinery, a process that ensures fixed dimensions and high quality production, thus making easy and trouble-free their use in constructional applications.
For manufacturing οφ steel anchors, our company operates a specialized Italian-made machine. It´s advanced technology ensures high production quality, dimensions accuracy and quick delivery to our customers.
As mentioned, apart from dimensions included in the table below, we can produce steel plates and anchors at any needed dimension.
| | | |
| --- | --- | --- |
| Dimensions | Dimensions | Dimensions |
| 100x100x6 | 200x300x15 | M20x750mm |
| 120x120x6 | 350x450x18 | M22x750mm |
| 150x150x6 | 300x400x18 | M24x850mm |
| 175x175x6 | | M27x850mm |
| 200x200x6 | | M24x1000mm |
| 250x250x6 | | M27x1000mm |
| 100x100x10 | | M24x1200mm |
| 120x120x10 | | M27x1200mm |
| 150x150x10 | | M30x850mm |
| 175x175x10 | | M30x1000mm |
| 200x200x10 | | M30x1200mm |
| 250x250x10 | | |